---
"'Icon' changed my life"
The Welsh singer and multi-instrumentalist Jayce Lewis celebrates his 10-year solo career this month
by Christina Angrabeit
Jayce Lewis became famous ten years ago with his first own single 'Icon' overnight. During this time he released three albums (Jayce Lewis, Nemesis and Million (Part 1+2)) and collaborated with many great artists in the music industry including Gary Numan, Burton C. Bell (Fear Factory, Ascension of the Watchers), Roger Taylor and Brian May (Queen). He started playing the guitar at the age of six. Further musical instruments followed. His music is a mixture of electronic, rock, industrial and synth-pop influences. Before that he was drummer of the band 'Losing Sun'. 'Losing Sun' broke up and he decided to start a solo career.
CA: "Congratulations on your 10-year anniversary".
JL: "Thank you! It's gone so fast. Ten years is flown by."
Jayce Lewis got to know Dave Prowse (Darth Vader) through his great passion for 'Star Wars' at a 'Star Wars Convention'.
JL: "We are been involved by each other for years and he is been a great ambassador, a great mentor and a fantastic influence of professionalism and everything above for me for many many years and I question where I would be as an artist if it wasn't with Dave."
He was also his manager for several years of his solo career and had his last official big appearance in Jayce's music video 'Shields' from his third album 'Million Part 1'. Prowse is still a very important mentor and good friend for him.
But let's look back ten years to the beginnings of Jayce Lewis' career:
2009
Jayce Lewis started writing his own songs and released his first single 'Icon' in 2009, which became his big breakthrough. He signed a five-year contract with EMI. 'Icon' reached a top 10 chart position in Asia and was played on VH1 and MTV up to 14 times a day. This led him to headline the 'VH1 Global Express Tour' through India in four cities. A short time later 'Icon' also became known on the European market and 'Kerrang TV' and 'Scuzz TV' included it in their program. The music video for 'Icon' was self-financed and partly shot at the Court Colman Manor Hotel in Bridgend, Wales.
CA. "When you look back to the last 10 years, which memories come to your mind first?"
JL: "Definitely my album going top ten in the Asian market and then the BBC following up with new stories and a documentary about it all. For me that was really a life changing moment- I just didn't think it would ever happened that quick. And touring with Gary Numan twice. The whole thing is just been exiting and fun and I really enjoyed it and I made so many good friends and all of that. The memories are still being made."
CA: "What would you do again and what do you regret?"
JL: "I wish I could tell myself to enjoy it more, when I was on my way to become an international artist. I found it very stressful, that newspapers and TV programs and all of that were writing and getting some informations wrong about me. What I regret? I regret some of the people I've had in my band that have toured with me as an artist. Some session players. In my live band i had some crazy little people involved in the past. You know, it's very exhaustive having to deal with peoples egos and things. So I regret that I didn't spot their character sooner. And I also regret changing my band name to 'Protafield'. That was a big mistake."
CA: "Was it your idea?"
JL: "No, it was the record label 'Universal'. 'Universal' advised me to change my name. It's one of my decisions I deeply regret. I lost a lot of fans. I think that was actually my biggest regret. I should never done that"
2010
First own headline show at the 'Millenium Hall', South Wales.
Release of the debut album 'Jayce Lewis'.
CA: "Was it your idea that you wanted to work as a solo artist?"
JL: "Yeah, when I was in 'Losing Sun' I always wanted to do electronic music. I'm not sad that 'Losing Sun' ended, great music but some of the members were very devious and selfish. The final two years of 'Losing Sun' I began listening to a lot of Dave Gahan from 'Depeche Mode'. He did a solo project and wrote an album called 'Hourglass' there was a song from that album called 'Kingdom'. It blew my mind and so, it was like my calling. You know, I just thought that this is something I should do. So that inspired me so much, and gave me the strength to finally become a solo artist. It was the right decision to make when the band ended, and totally sureal the first song I ever wrote became the hit single. I mean it was literally the very first song that I ever tried to sing, write lyrics. I didn't even know if I sounded any good as a singer, its crazy that 'Icon' launched my career, I don't think its a particularly good song to be honest."
2011
Opening act on Gary Numan's 'Dead Son Rising' tour.
Jayce met Gary Numan once at a 'Depeche Mode' concert. Since then both have been close friends.
Release of the single 'Passes II' from the debut album.
CA: "It was new for you to sing. Was it hard to learn it?"
JL: "No, very, very easy in fact. I mean touring was a little bit difficult. I had to learn to main change my voice on touring. So, I had to protect a lot of and be careful to not loose my voice."
Release of the single 'Electric Medicine' from the debut album 'Jayce Lewis'. 'Electric Medicine' is still the most viewed of his music videos with more than 427 100 clicks.
UK tour as support of the band 'Combichrist'. Jayce Lewis was also the opening act of the Nu Metaler 'Korn' in Kiev / Ukraine.
CA: "Which of your albums do you like most and why?"
JL: "I think my very first one. My first album. Because it was exiting. Even know it was very stressful and it was life changing for me. And I mean all the music that I write I don't really listen to it again. Once is written and recorded and that's it. I don't attend to revisit it. But for this album i have beyond memories and every thing. I can't believe this is much that its did for me. It's crazy that it's made such an impact. I don't really know and why."
2013
Publication of the single 'Solitaire' from the debut album. Also a UK and Europe tour as support of the band 'Black Light Burns'. The singer of the 'Black Light Burns' is Wes Borland, who is also guitarist of the Nu-Metal band 'Limp Bizkit'.
Also a tour with the group 'Killing Joke'.
CA: "Do you prefer to sing live or in the studio?"
JL: "I don't actually like to do tour. Singing for me as a frontman is a very weird thing. I felt like I have to do it to main change. Because as a drummer you are in the background and you know the band. When the bands breaks up, that's it. As a solo artist I have to play all instruments, I have to be the singer, the frontman and have to write everything. Its something, I felt like I have to do, not something I like to do."
2014
Change from EMI to Universal Music.
Tour as support with the band 'Hellyeah'.
The name change to the band name 'Protafield'. Which turned out to be one of the biggest mistakes according to Jayce Lewis.
Release of the song 'God Forced'.
'Protafield' played on the 'Sonisphere Festival'
The music video for "Severe Sever" was shot at the 'Court Colman Manor Hotel' in Bridgend, Wales and includes a guest appearance by Saffron Sprackling, frontwoman of the electronic rock band 'Republica'.
Release of the second album 'Nemesis' under the name 'Protafield'
Jayce Lewis recorded the song 'Redesign' together with synth-pop pioneer Gary Numan, which can also be found on the album 'Nemesis'.
2015
Performance with 'Protafield' at the Camden Rocks Festival in the UK.
Release of the single "Pure" from the album 'Nemesis'.
The music video for 'Pure' is still the most expensive one by Jayce Lewis. The video was shot in five days at a desused quarry and took two months to cut. Jayce himself filmed the music video with trustworthy filmmakers and friends and edited it later. The petrol bombs were all real and some people suffered burnings. Jayce did all the stunts by himself.
2016
Change of the band name from 'Protafield' to 'Jayce Lewis'.
Release of a second edition of the album 'Nemesis' under the name 'Jayce Lewis'. Nemesis" was also released on vinyl.
Construction of the 'Northstone Studios'
CA: "How did you get the idea to build your own studio?"
JL: "Well, when EMI collapsed I moved over to 'Universal Music' I had to do something. I had money saved from the success of the first album. I put that into a saving account and decided to put it into the studio. I would like to doing production and owning my own recording studios and that's what I did. And it took me one year to build and renovate the building. It was terrible – there were no roof, the walls were falling through. Really bad. It was really terrible."
Photos: © JL
CA : "Why did you build it in this place? From a ruin?"
JL: "Well, because it's attached to the 'Court Colman Manor Hotel' which is pretty much my second home and I've been there every day. I felt I was right at home straight away."
CA: "So why did you build it by yourself?"
JL: "Because I am creative and I had a builder, a friend, called Matt. For the first six or seven month and then I had to build the rest. I was very strict on details, want to have something to look. One side had to learn to make cement and the other had to pull the wall up. It was felt very therapeutic, very free to build it of your own environment."
CA: "Is there a specific reason why you called it 'Northstone Studios'?
JL: "I called it 'Northstone Studios' because after trying to find a name for my studio there were thousands of names they all taken up by other studios around the world. I wanted something individual. Because were the studios are situated its north of 'Court Colman Manor' and it's made of stones."
CA: "Does the sound in your studio sound different or even unique because it is made of stones?"
JL: "Oh yeah, the drum sound in the studio is like nothing like in other studios. It sounds incredible."
CA: "Why are you playing drums in socks?"
JL: "I want my feet to be light. I used to do a very hard double pedal. So my feet be light this. It goes fast as possible."
2017
Jayce met Roger Taylor (Queen) once through a friend who played in Taylor's former band 'The Cross'. This also resulted in the contact to Brian May (Queen).
Publication of "Wrath" from the album 'Nemesis'.
CA: "Which song to you like most to perform live and why?"
JL: "'Order Art'- I love performing 'Order Art'. The energy, the clever time in signature, the people always listen to it and just be wilded by the time signature of the song. They always go down very well."
Release of the single 'Shields' from the album 'Million Part 1'. The music video 'Shields' includes a guest appearance of Dave Prowse (Darth Vader), who was also his last great public presence. 'Shields' is still Jayce Lewis' second most viewed music video with over 100 866 hits.
The first part of his third album 'Million' was released.
Another tour with Gary Numan as support on his 'Savage' tour in the UK and Europe.
Launch of the single "We Are One" feat Brian May (Queen)
2018
Release of the single 'Million' from the same-named album 'Million Part 1'.
Performance at the 'Amplified Festival' in the UK.
Also headliner at the 'Faine Misto Festival' in Ukraine.
Tour as opening act for some concerts in the UK with the reggae metal band 'Skindred'.
In September 2018 the single "Daw Martyr" from the second part of the 'Million' album was released, which followed in October. "Daw Martyr" includes a guest appearance by Burton C. Bell (Fear Factory, Ascension of the Watchers)
CA: "Some of your songs have special names. For example the song 'Centaurus' from 'Million Part 2'. Do you mean the star constellation 'Centaurus' with it?"
JL: 'Centaurus' is actually the engine of one of my favorite planes. A plane from the World War II called 'Hawker Sea Fury' and the engine is my absolute favorite engine. The engine inside is a 'Bristol Centaurus'. I love that engine. But the constellation 'Centaurus' is also the largest viewable constellation in the sky to human eye. I am fascinated by both and that' s why I wrote this song about it."
Jayce played his first own headline tour through the UK. The supporting bands were 'Sulpher' and 'Ventenner'.
Publication of the song 'Exhale' from the album 'Million Part 2', which includes voice recordings by evolutionary biologist and author Richard Dawkins.
2019
Recordings for the second Ascention of the Watchers album Stormcrow at Northstone Studios, Bridgend, Wales together with Burton C. Bell. 'Ascention of the Watchers' is a project by Fear Factory frontman Burton C. Bell. Jayce is the producer and drummer for 'Stormcrow'. Jayce and Burton have been close friends since they met on Myspace.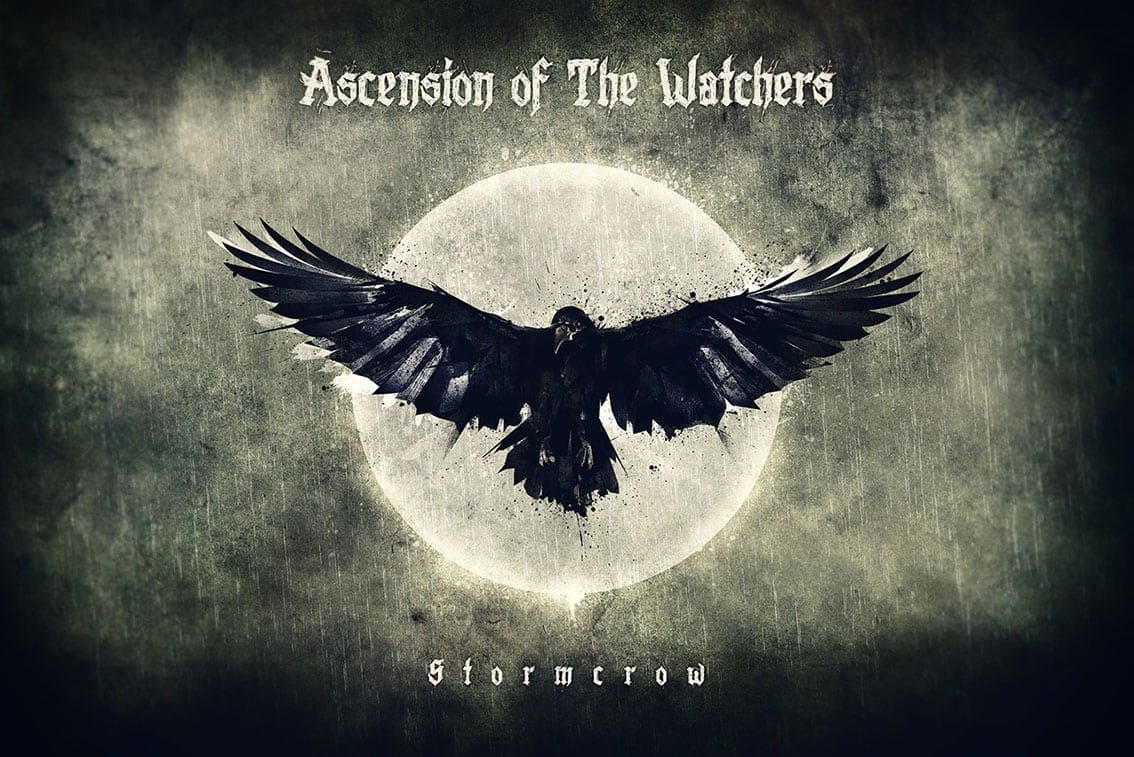 Acting as headliner at the 'Zaxidfest' in Ukraine.
CA: "Are you already working on new songs for your new album? Will there be guest artists on it again?"
JL: "Yes, I already have six new songs. Probably there will be guest artists on it again. But who it will be, I'm not sure yet".
CA: "Is there a story about your necklace that you always wear?"
JL: "No, I just like the necklace. I got it years ago from a shaolin monk. And he was raising money and I bought it from him. I'm not religious at all, but he gave it to me and he was quite a character. I wear it all the time and I like it."
CA: "When will you come to Germany?"
JL: "Definitely next year."
Jayce Lewis will also play at the 'HRH Goth Festival' (UK) in 2020. I think we will hear and see a lot more of this talented musician in the future.
Text and interview: © Christina Angrabeit
Links:
https://www.facebook.com/jaycelewisofficial/
https://angrabytejournalism.wordpress.com/2018/03/16/darth-vader-war-sein-band-manager
https://angrabytejournalism.wordpress.com/2018/10/15/jayce-lewis-million-part-2-review/